;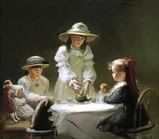 Photo courtesy: John Winslow


I have added a new category called 'Tea Parties'. We've had so many tea parties throughout the years that I thought I would share some of our ideas, themes and decorations for those who may want to begin this lovely tradition with their own daughters.

Several years ago, my dear friend and I together decided to begin having home tea parties for our daughters. We wanted these to be very special because our daughters did not have many friends at the time. Together we agreed on the following particulars:

-They would be held twice a year- in the Spring and Fall in alternate host homes.
-These were to be very fancy and require careful planning.
-We would spend a minimal amount of money, mainly relying on what we already had.
-Formal invitations and menus would be made by hand.
-Each party would have a theme.
-We would exchange small gifts.
-A craft would follow the meal.
-Manners would be taught naturally.
-The hostesses would do all the serving that day experiencing the joy of serving others.
-Guests were to be treated as royalty and may not enter the kitchen.
-The dads would take the younger children and boys away from the home for those four hours. My son loves to go on his 'Man to Man' talk with his dear daddy now.

This semi-annual event has become one of the highlights of the year for my daughters. We have made so many wonderful memories, being careful to keep a copy of our little invitations and menus. At the next tea party, we plan to make a scrapbook of the memories for each family with photos included. Oooh! I'm getting excited already. In my next tea party post, I will share what one of these lovely days looked like and hopefully give some fresh ideas that will inspire others.