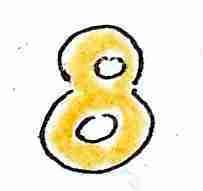 A few days ago, during play time, my eight year old DD spent quite a bit of time showing four year old DS how to write the number 8. After several failures, he finally managed to write one just like her by making an S and following through to the top. This thrilled him. Excitedly, he made another one, and then another. Before long the page was filled with 8's.
Hopping up and down, dancing in circles, he came to me and announced, "Mommy, I have decided! I have decided! I am going to make 8's for the rest of my life!" Then he proceeded to do so.
It is two days later, and he is still making 8's. The papers are all over the house! Big 8's, little 8's; 8's in every color of the rainbow; 8's made with crayons; 8's made with markers; 8's made with pens. It's hilarious! Now, if I could only harness that enthusiasm and use it on myself, I could get a whole lot more projects completed.
May the bliss of childhood make you smile today as it has done for me.