"...Let them have tales of the imagination, scenes laid in other lands and other times, heroic adventures, hairbreadth escapes, delicious fairy tales in which they are never roughly pulled up by the impossible--even where all is impossible, and they know it, and yet believe..." -C. Mason
Old man Winter is on the way and time is running out to play... So, a few days ago the children and I decided to spend the afternoon in 'The Secret Meadow,' a quiet place below our village surrounded by hazelnut bushes and plum trees. There is a small, enchanted forest located on the far end of the green.
As we passed through the vine-covered arbor in the apple orchard, it became apparent that we were no longer in our home country. Much to our delight, the land of Narnia lay before us. We could see the lamp post burning brightly in the wood.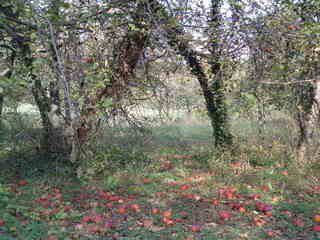 It wasn't long before we met up with a Dufflepud who, in a flurry and worry, told us to hide quickly because the Telmarines were looking for those who were loyal to Aslan. King Peter bravely led the way with his silver sword.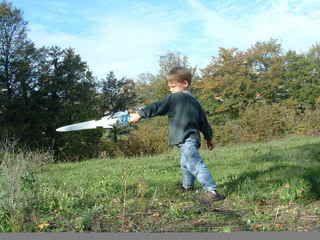 Suddenly, an arrow whizzed over our heads; then another! Eustace ducked as Susan looked for the source. Jill felt a burning sensation in her side. An arrow had found its mark. She fell in a swoon as darkness enveloped her...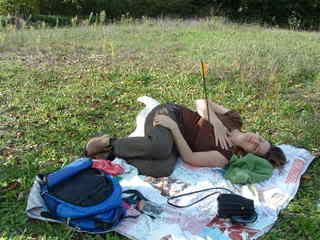 Quickly, Susan put an arrow on the string and chased our attacker. Meanwhile, King Peter was ambushed by a great black dragon. He fought bravely, destroying the foul beast; but, alas, he too, fell...
Eustace searched frantically for healing leaves. Mixing them with his spittle, he bandaged the wounded. Recovery was immediate.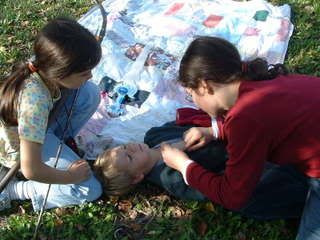 Many other adventures met us that day. Finally, the sun began to set behind Mount Lonesome and reluctantly, we begin the journey back home. As we passed through the apple arbor our favorite land disappeared. Once again, the familiar hills of home came into view. It had been a good day. Knowing that we could return to our beloved Narnia whenever we wished was a comforting thought.

The End