Theme: Sleeping Beauty Spa
Verse: You are altogether beautiful, my darling, and there is no blemish in you.

Song of Solomon 4:7
Colors: 3 pastels- yellow, pink and lavender
Invitations: Pink with the theme and scripture verse on the front. We also downloaded and xeroxed a black and white sketch that we googled of a sleeping lady. We glued a little glitter around her. Inside included a Gift Certificate we made on the computer from the Sleeping Beauty Spa. It said:

This entitles _______________________ to one free Day Spa.




Your 'Ladies' Day Out' will begin with a relaxing afternoon Luncheon and Tea,




Followed by personal beauty treatments that include:


Herbal and Spiritual Beauty Therapies


Exfoliation and Massage


Aromatherapy


Botanical Skin Treatments and Essential Oils


Cranio-Sacral Therapy




Valid only on ______________________




You are encouraged to wear a dress as slacks may interfere with your treatments.




(Certificate retail value is $250.00)




The Donors of this certificate wish to remain anonymous
Decorations: As the guests arrived, they saw a sign on the front door saying, "Welcome to the Sleeping Beauty Spa." Classical music was playing and the guests were ushered into the dining area by a little hostess. There were six of us so we had moved three small tea tables of different shapes to the living room. Each table was set for two and decorated slightly different from the others, each with a different color theme. We used what we had on hand, and gathered yellow, lavender and pink flowers from the fields and garden as table centerpieces. We also decorated the large dining room table with flowers, gifts, candles and food. Here is a picture of our youngest participants.
Menu: Every person had a hand-printed pink or lavender or pastel yellow menu with a drawing of Sleeping Beauty on the front. Each one of my daughters drew their own from various sources such as children's books.
Here is a sample menu: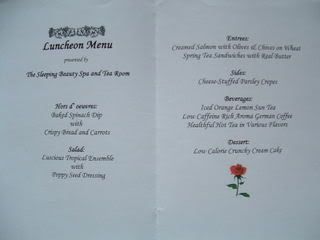 Click here to enlarge.
We usually try to name the entrees cute names that go with our theme. This time we were concentrating on 'healthy' sounding items in keeping with the Spa theme.

After a leisurely meal, the guests were led to the Spa room. Another room of the house was used for these 'not to be missed' spa treatments. Each hostess had donned an apron she had made earlier in the week and was standing by her own decorated booth. These aprons were very easy to make. We sewed a washcloth to a matching hand towel and added pink, yellow or lavender ribbons to the top and sides. No hemming was necessary. Each one took five to ten minutes to make. Each girl had made and decorated signs announcing services offered and how wonderful you would feel if you just tried them. The little hostess wearing the yellow apron, had a yellow sign, etc…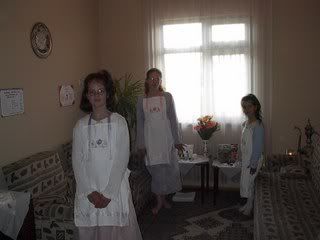 One daughter was in charge of manicures. She had a little basin with floating rose petals and oil for hand soaks, as well.

My other dear daughter gave pedicures. She also had a basin for foot soaks. She used sugar for exfoliation, cucumber and vinegar for cleansing and soaking and some other natural ingredients. (This daughter had recently read about natural skin treatments and had been trying them out on family members all week and so she used them this day).

Our youngest daughter gave cranio-sacral therapy treatments. In plain English, that means she gave scalp massages, then combed out the guests hair and gave them a hairdo. This was so cute. We had practiced some simple hairdos earlier in the week together.

Aromatic candles were burning and classical worship music (spiritual therapy) was now playing in the background.
Craft: Usually we have a craft time, but the spa session replaced it this time. We did share our spa recipes with the guests.

Gifts: Afterwards, we returned to the dining area where tea and dessert were served. Gifts were also exchanged. We had made spa baskets, filling them with soaps, lotions, manicure sets, etc, (items found from a local dollar-type store) and wrapped them with clear saran wrap and ribbons. We also liked our aprons so much we gave one to our little guest. Our guests gave us a lovely bouquet of fresh cut flowers from the local florist.
Conversation: While eating together, we discussed the theme verse in casual conversation, describing what a beautiful woman truly looks like. We discussed that outward beauty is a lovely thing, but inner beauty must be the foundation or we waste our time adorning the outside. This was not a formal talk, but flowed naturally as we chatted together.
Finally, it was time to say our goodbyes. Everyone agreed that they had a marvelous time.